You added a Trainwreck 0.25g Disposable Vape Pen to your shopping cart.
Go to Checkout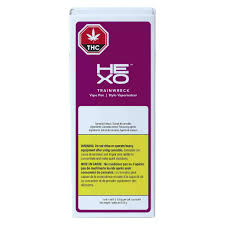 Trainwreck 0.25g Disposable Vape Pen
---
• In stock
• Easy returns
• Only Pick Up
SKU: CNB-03101216
---
---
This is a high-quality all-in-one 250 mg vape pen. Exclusively plant-derived and clinically tested, the strong THC potency single strain Trainwreck formulation contains cannabinoids from sun-grown cannabis, and terpenes. That's it. No solvents or diluting agents, pesticides, or heavy metals; just the good stuff. The Trainwreck vape pen is manufactured in a highly controlled environment for a consistent consumer experience. The pen is breath activated for ease of use, leak-free, includes a reservoir window and is packaged in a child resistant format. The food-grade heating element is engineered to atomize liquid in a precise, fool-proof way and lasts for approximately 75 uses. It offers a clean and smooth finish with the light aroma of terpenes reminiscent of your favourite cannabis strain.
{{review_total}} reviews for Trainwreck 0.25g Disposable Vape Pen